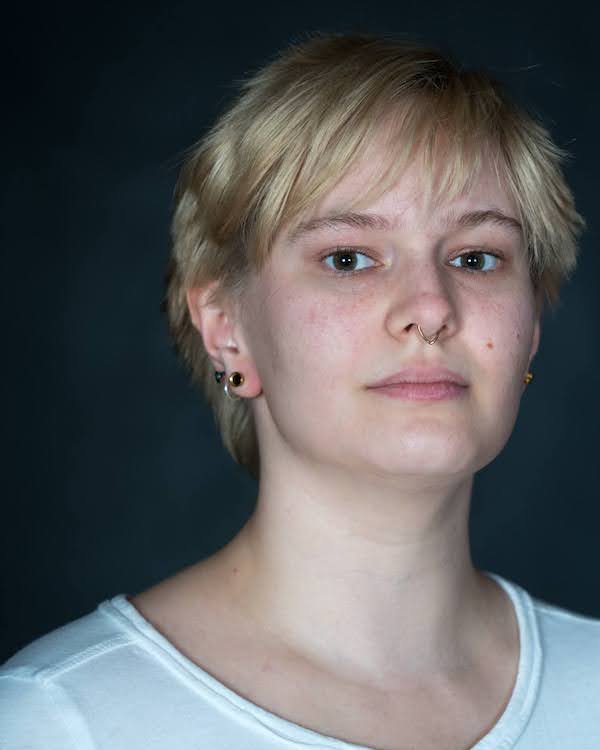 Photo by: Robert Wilson Andi Leaf Pankratz is an aspiring circus and contemporary performance artist. Born on treaty one territory in Winkler, Manitoba, they were raised in Winnipeg, Manitoba by a Mennonite family of athletes. From early childhood Andi had expressed an interest in theatre and performing arts, being lucky to have parents who supported their creative endeavors, and never stopped. Andi was placed in a Catholic elementary school, because their parents wanted them to get a private education and to be exposed to religions other than Mennonite. Later, in high school, they were moved to a different Christian private school that turned out to be a very abusive environment which later on influenced the topics brought up in Andi's creations.
Fluent in both English and American Sign language, they graduated from the Deaf studies program at Red River College in 2020, and they are currently in their final year of the BAH in linguistics and theatre with a concentration in directing. Andi has been training as an actor and musical theatre artist for the majority of their life, and began training in aerial hoop 3 years ago at VogueFit studio. The initial motivation for expanding into circus arts was to be a more cast-able actor. However, Andi has since found immense creative freedom in circus arts as a gender nonconforming nonbinary person making this a pivotal point in their artistic journey. Striving to explore new genres, Andi began taking contortion and hand balancing classes with Anastasia Evsigneeva in September of 2020. After several months of classes, Andi found an artistic connection with Anastasia and approached her with the idea of undertaking a mentorship as part of their theatre degree at the University of Winnipeg. Within this practicum they created the short film Adamah under Anastasia's guidance. Adamah is a multidisciplinary creation that includes contemporary dance, theatre acting, aerial hoop, and contortion. The full film is yet to be presented. Recently, Andi has embarked on practicing in static trapeze at Monica's Danz Gym, and cyr wheel with Daniel Craig. Their recent work also includes the devised show To Kill a Lizard with Sarasvati Productions at the Asper Center for Theatre and Film as a part of Femfest 2019.
Photo by: Robert Wilson Andi is currently in a mentorship program with Anastasia through Creative Manitoba; together they plan to adapt Adamah for live performance. Andi plans to create an interactive exhibit that tells the story of how their gender identity and transition has intersected with their personal beliefs, religious trauma, and faith journey. They hope to continue making contemporary circus pieces that explore religion and gender, and to create work that combines circus and kink practices. Andi believes that explicit art that celebrates sexual and gender diversity without shame is key to creating a safer space for artistic expression, and plans to create art that pushes the world in that direction.